Mother nature and man's inhumanity to man have given us no shortage of opportunities to reach out and help our fellow citizens here in the US in the last few weeks where hurricanes, fires and terrorism have taken an ugly toll on life, property and any sense of security you might have enjoyed.
So, while you have your wallet and your heart open, here's a reminder that it is Breast Cancer Awareness month at Health Wonk Review, too.
Click here for the Pink Edition hosted by the inimitable Hank Stern at InsureBlog where you can find out how to sponsor Hank's team on his walk to raise money to fight breast cancer.
'Til next time, stay safe out there.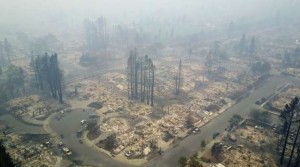 Fires in Wine Country north of San Francisco continue to burn out of control as of this writing.
Photo by Nick Giblin/DroneBase via AP