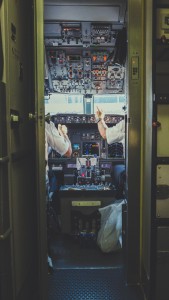 This article is cross-posted at www.workingwithsmes.com.
In aviation, safety is always the primary concern. In fact, aviation's safety record is so stellar that it is considered a model for healthcare. That is quite a testament.
However, a retired pilot friend recently bemoaned that the emphasis on FAA rules and regulations has overtaken concern about safety, and aviation is not better for the change.
"Now we're only concerned about compliance. We have a cast of thousands as support staff. When I started flying in 1964, Part 91 federal regulations were about 30 pages. You could memorize it. Today, it is hundreds, if not thousands, of pages and nobody can possibly know everything that is in there. We are less safe today than we were 50 years ago," he complained.
Making and keeping track of all those regulations costs aviation a lot of money. It requires a boatload of federal regulators to oversee them, and costs private carriers a bundle of money to hire people to monitor every jot and tittle of the laws. One misstep, and they can shut you down. And, he concludes, neither the passengers nor the airline employees benefit from this over-regulation.
Will Healthcare Follow Aviation Again?
Just about everyone in healthcare knows about the vaunted aviation checklist, and how it has become standard procedure in many operating rooms today. Books are written and consultants make good livings just teaching the checklist approach to safety. The checklist is a great tool. Healthcare is better for following aviation down that path.
But is healthcare going to benefit by following the FAA down the road to over-regulation? We can trip on our path toward safety by using regulations as stumbling blocks instead of using some common sense rules to pave a smooth road to improved quality and performance.
So Many Rules They Can't Be Followed
Just yesterday, I was observing a training class that I wrote for a major pharmaceutical company that shall remain nameless, but one that we all know and love. We were training hourly line employees on procedures that affect product safety. To a person, they had one complaint: standard operating procedures were becoming downright cumbersome and made it very difficult to follow, let alone implement, them.
One veteran employee said when an incident occurs, someone writes another procedure and adds it to the book of procedures. Nothing else in the book is deleted or changed, and so it is becoming nearly impossible to follow. In fact, the employee complained that SOPs are written in response to each incident, meaning that many new SOPs only relate to one isolated incident each. The SOPs are losing their meaning and rationale. It is just a jumble of unrelated knee jerk reactions to specific incidents.
The employee concluded the company was creating more problems than it was solving by having a procedure manual that could not be followed. There are now so many rules to follow, the rules can no longer be followed, the employee complained.
Is All of Healthcare Headed Toward Unwieldy SOPs?
With the passage of the Accountable Care Act, known colloquially as ObamaCare, many believe that we are headed down a path of over-regulation. Where common sense and good medical practice once dominated the industry, healthcare practitioners (formerly called nurses and doctors) are overwhelmed with rules regarding how they practice, to which the actual art and science of medicine is taking a backseat.
At a recent visit accompanying a friend to a physician's appointment at a hospital center, we observed that we were two of only four people sitting in a new waiting room with 25 chairs, two large receptionist desks – one that seated four and another with 12 stations – and a physician accompanied by a nurse and a receptionist carrying around a brochure rack deciding where to place it. Let me say that again. A highly skilled specialist was carrying around a brochure rack with his nurse and receptionist trying to find a place for it.
In this brand-spanking-new facility where our doctor's office had been moved since our last visit (from a very modern, extremely functional office building now sitting vacant in the parking lot), we also observed not one – but two – printers behind the one receptionist desk and a wall of file drawers. We filled out our medical information on a clipboard, which we have done for each of his visits for the last three years to have it inserted into his manila file folder.
Sigh.
The Trend Is…
By personal experience as well as professional observation, the trend is toward more regulation, more staff to assure compliance with the rules, and an ongoing steady stream of physical and electronic paperwork to track patients.
Instead of continuing to ramp up our regulatory oversight into the stratosphere, perhaps it is time to – if I can paraphrase my retired pilot friend – throttle back and re-evaluate what we are really trying to accomplish.