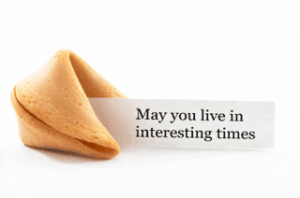 Just when you thought things can't get any weirder, they do. Combine staunch opposed ideologies held by fierce political warriors, and we find ourselves under the ancient curse of living in interesting times.
It seems our nation is transitioning from a government run on compromise – remember Ronald Reagan working with Tip O'Neill or Bill Clinton reaching across the aisle to Newt Gingrich? – to one run on diametrically opposed ideologies duking it out in unceasing, heated political and legislative battles. Maybe people will pull back the throttle on the ideological thrusters and land this thing safely. For now, both clearly defined sides in this fight seem to have refined the act of demonizing the opponent to an art form. But this isn't art. It's life, and it's happening in real time. Welcome to interesting times.
Now, off to the land where hyperbole and rancor take a back seat to reason.
Let's hear from the more tempered voices of the HWR crew's civilized, balanced and informed debate.
Kicking off the discussions this week, we turn to the Health Affairs Blog where Timothy Jost presents a detailed analysis of the Republican legislation on the table to replace the ACA. In Examining the House Republican ACA Repeal and Replace Legislation, he compares the relatively lengthy ACA draft process to the 3-week run-up to the ACHA legislation. He points out what changes (mostly Medicaid), what doesn't (pre-existing condition protections, coverage guarantees, etc) and looks at the revenue implications.
The ACA has been an employment driver, so repeal will hurt employment. Joe Paduda breaks out the math for us here at Managed Care Matters. Making healthcare more efficient will cost jobs and reduce incomes for a large segment of the economy. Joe asks, will this affect policymakers' priorities?
Henry Stern at InsureBlog tells us that, if measured in numbers of lives saved, patients are faring worse under ObamaCare. In fact, InsureBlog reports that the ACA's success regarding actual lives saved is a big goose egg.  Here's the story at The ObamaCare Success Story: Zip, nada, and zilch.
Linda Bergthold, writing for Health Insurance.org, provides a dictionary to help decode the meaning behind the politicians' words, a difficult task under any circumstances. In Decoding Republicans' Language of Repeal, she cautions readers that seemingly innocuous language such as "patient-centered", "access to care", "freedom" and "choice" may not deliver on those promises quite as presented. She said much of the GOP language masks "ideas that are old and tired" that are being recycled. Read more here and decide for yourself.
Over at XPostFactoid, Andrew Sprung is a man looking for a compromise and a way out that saves face for everyone, something that might include a couple of frills like, say, oh, coverage for the vulnerable. In his post, Psst, Democrats: Help Republicans Out of the Repeal Box via Cassidy-Collins, he looks at the Patient Freedom Act as an alternative to the ACA and the AHCA. Read XPostFactoid here.
Over at Health Access California, Anthony Wright pays tribute to 94-year-old health care advocate Dorothy Rice who passed away this week. Of RIP Dorothy Rice, Pioneer in Health, Anthony says, "Rice was a lead economist in the Johnson Administration who made the case for Medicare. For an encore, she had a second career as a world-renowned academic where she dealt with issues from health reform to aging to tobacco control. We were pleased to work with her on our board during the effort to pass and then implement the ACA, providing a historical perspective to remind us these policy fights are not new – although she always thought after the passage of Medicare that the next reform to cover the rest of the population would come a lot sooner than it did." This tribute details her considerable accomplishments.
Roy Poses at Health Care Renewal questions the integrity of Trump cabinet nominee for Labor Secretary based on some of his rulings as a former U.S. Attorney regarding pharmaceutical companies that favored the corporations. Roy asks, "What sort of swamp drainage process is this?" as he explores the decisions of the cabinet nominee "who had an important role in enabling the impunity of leaders of top health care organizations…he presided over three major settlements with pharmaceutical corporations. In none of them did any individual who enabled, authorized, directed, or implemented the alleged bad behavior suffer any negative consequences. The suits were settled by payments made by the companies." The details of these cases are in the Health Care Renewal blog here.
David Harlow at HealthBlawg recently hosted a cybersecurity webinar with government experts. To view the webinar, click on this link to view the Second Annual Cybersecurity and Health Care Panel Discussion with Government and Industry Experts. This blog post includes David's notes from his introductory remarks as well as the 1 hour and 21 minute presentation. Grab a cup of coffee and listen to this in-depth discussion.
After taking in the webinar, you can jump over to David Williams' Health Business Blog and click on his podcast where he interviews iCardiac Technologies CEO Alex Zapesochny about his electronic clinical outcomes assessment platform. Electronic clinical outcomes assessment platforms collect data from patients, clinicians and caregivers to make clinical trials more efficient and accurate. In this 14 minute interview, they discuss some of the trends in clinical drug development and how they impact platforms such as eCOA.
At Healthcare Economist, Jason Shafrin discusses the evolving methods for evaluating cancer care. Shafrin asks, "How do you measure the quality of care patients with cancer receive? How long they live? Avoiding side effects? Patient satisfaction? Process measures?" The Healthcare Economist investigates here.
Finally, we'll visit an issue that has begun to cross the ideological divide. At Worker's Comp Insider, Tom Lynch reports on a recent study on the therapeutic use of medical marijuana as a treatment for chronic pain – and the impending clash between the states and federal government stances on legality.  Read the discussion in more detail here at Who Knew? Medical Marijuana Works (at least for chronic pain).