By Peggy Salvatore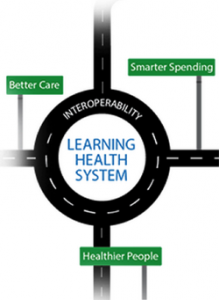 The ONC's national meeting held earlier this month is cause for the greatest amount of optimism I have seen since the government decided to drive health information technology. Current and former national coordinators gathered on one stage, and their uniformity of purpose was representative of the movement toward interoperability.
The meeting was covered by Healthcare IT News in an article by Brian Ahier, director of standards and government affairs at Medicity.
The meeting came on the heels of a new Federal Health IT Strategic Plan released in December that calls for coordination of efforts among federal departments and agencies to advance the sharing of electronic health information.  Here in the cheap seats, there is a sense that the coordination of standards is finally ready for prime time (in deference to the great Saturday Night Live 40th Anniversary).
In Ahier's February 18th article Entering a New Era of Population Health , he explains that the data sharing section of the ONC's Connecting Health and Care for the Nation: A Shared Nationwide Interoperability Roadmap lays out the following goals for the end of 2017:
Establishing a coordinated governance framework and process for nationwide health IT interoperability;
Improving technical standards and implementation guidance for sharing and using a common clinical data set;
Enhancing incentives for sharing electronic health information according to common technical standards; and
Clarifying privacy and security requirements that enable interoperability.
The big picture is that the roadmap, as well as proposed rules for Stage 3 meaningful use standards, will advance the use of population health data which will, in turn, support value payment structures such as accountable care organizations.
While this is all good news, I continue to be concerned about overly optimistic timelines that don't account for real-world budget constraints, training times, and conversion of all relevant providers. If anything, I continue to be concerned that the laws don't go far enough in recognizing how far we have to go.
And in the case of how very far we've come with health technology in just the last few years, I wonder about how the system will integrate consumer health electronics and the central role they can play in monitoring, maintaining and supporting health.
Technology is out in front of the regulatory environment, and government's role is appropriately to guide and support, not control and require. The leadership at ONC is heading in that direction and dragging a cumbersome set of laws behind it. Let's see if these enlightened leaders can manage to lose those laws as they gain speed.