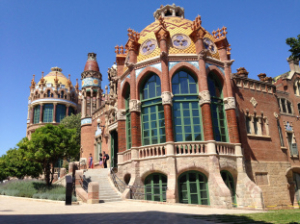 Tinker Ready of Boston Health News delivered a wide range of health policy thought for this edition of Health Wonk Review.
Read it here just in time to study for David Harlow's Health Wonk Review Blab today at 1 p.m. Eastern. Catch him and join in the conversation. Just click on this link.
Photo: Great hospital design! Tinker Ready offers a little color from the former home of the Hospital de la Santa Creu i Sant Pau in Barcelona.
Browser alert: I found that Chrome worked best to get full functionality of Blab. With Edge and my Android browser, I could see and hear David but couldn't speak to him. So if you want to chat with David, try Chrome.