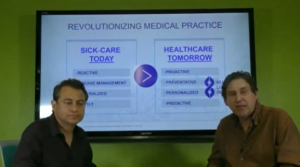 You can know and affect your health future now. Human Longevity Institute is launching Human Nucleus, a place where you can have your genome completely analyzed into its millions of component pieces of information. That information is actionable immediately, and remains as part of a learning database from which you continue to benefit.
The first cohort of 200 participants is through the pilot phase, and the program is now opening to a wider audience on his email list, explained Peter Diamandis MD, co-founder of Human Longevity Institute  and the force behind this transformation of the way we think about healthcare. Dr. Diamandis is a leading futurist, Chairman and CEO of the XPRIZE Foundation and the co-founder of Singularity University.
To participate, you can fill out an application for the team to determine if you fit the criteria. If you make  the cut, you spend a day in LaJolla, CA with some of the sharpest and most forward-looking healthcare minds on the planet for a new level of a full medical workup. The cost? $25,000 buys you the chance to be part of a massive initiative to move healthcare into a future.
Manage Your Health Portfolio
Dr. Diamandis envisions that patients in the future will be able to "manage your health information the way that you currently manage your wealth portfolio," he said during a Google Hangout  on Saturday afternoon with HLI's Chief Medical Officer Clay Perkins. HLI's stated goal to help move healthcare from Sick Care to a true healthcare system.
"Over time, we'll see more emphasis on this time of care and less hospital beds," Dr. Perkins said.
Exciting? Just a little. And by the way, if you wait a few years, the price of the genome sequencing is expected to drop to about $3,000. What is the price of waiting? You may save $22,000 by waiting for the commercial rollout or, like at least one participant in the first 200, if you spend the $25,000 today you may save your life by finding something that would not have been discovered until it was much more advanced and fatal.
If they find something amiss, they work with your physician to immediately find a top specialist to take action. Already, the team has found serious issues in about one-third of participants – issues that were able to be proactively addressed – and now the team is already getting thank you notes from a few people whose lives have been saved.
Population Health In Extremis
The idea of medicine being this personalized almost runs counter to the notion of population health, but actually it is population health in extremis.  Your highly secure information is first analyzed for your personalized health risk assessment and individual care plan around the assessment. Then you data is aggregated and analyzed along with all the other de-identified data resulting in ongoing machine learning insights. "The more data we have, the more we learn about you." Participants are learning more about themselves as Human Nucleus learns more about the pool of participants.
The studies are being conducted in tightly controlled experiments that will be published in peer-reviewed journals.
"It's a fundamental concept. If we can determine based on your genomics, [we can determine] what you are likely to die from. . .Your genome is your health future and it give you the probabilities, mixed in with nurture and your style…it tells us what to look for early on. . . it's as fundamental as it gets," Dr. Diamandis said.
The long view on the project is to find the secret to aging well by studying people who are healthy into their 90s and beyond. For details, check out Human Longevity Institute here and click on the Health Nucleus video on the home page.
"This is an early prototype of what human health will look like," Dr. Perkins said.